Light, creamy and fruity. Whip up their taste buds with a Cranberry & Clementine Pavlova.
Cranberry & Clementine Pavlova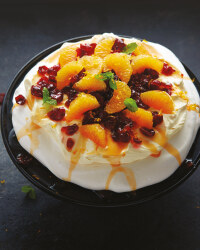 Recipe Information
Ingredients
4 Egg Whites
300g Caster Sugar (plus 2 tbsp)
1 tsp Vinegar
1 tsp Cornflour
1 tbsp Sherry
200ml Double Cream
5 Clementines
50g Dried Cranberries
2-3 tbsp Water
Shallow Baking Tray
Greaseproof Paper
Method
Pre-heat the oven to 120°C/140°F/Gas Mark 1.
Whisk the egg whites to soft peaks, then gradually add 250g of the sugar until glossy with stiff peaks and then stir in the vinegar.
Spread the meringue into a circular disc on the greaseproof paper and bake on the baking tray for approx. 3 hours, depending on the thickness, then leave to cool in the oven.
Zest 3 clementines and save the zest for later.
Juice all the clementines and cover the dried cranberries in a pan.
Heat both the cranberries and juice, add 50g of sugar and a couple of tablespoons of water, heat until thickened and syrupy and then leave to cool.
Whisk the cream with sherry, add the zest and 2 tbsp sugar until soft peaks form. Spread this into the centre of the meringue.
Peel 2 clementines and use the segments to decorate the top of the pavlova.
Before serving, spoon the cranberries and syrup over the top.