Seriously good Christmas Slaw. Try as a topping to turkey sarnies or pair with the Boxing Day buffet.
Christmas Slaw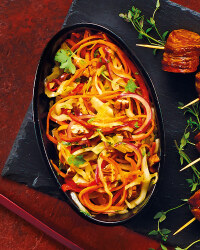 Recipe Information
Ingredients
500g White Cabbage, shredded thinly
2 Medium Red Onions, thinly sliced
2 Medium Carrots, peeled into strips
2 Red Pointed Peppers, thinly sliced
100g Pecan Nuts, chopped
10g Parsley, chopped
Juice of 1 Lemon
80ml Olive Oil
25g Dijon Mustard
33ml Maple Syrup
Sea Salt and Black Pepper
Method
Mix together all the vegetables, nuts and parsley in a bowl.
Make the dressing by combining the lemon juice, mustard, maple syrup and olive oil together, then season with some salt and pepper and whisk well.
Pour over the slaw and toss to mix together.