A thick and indulgent chocolate sponge roll with a delicious cream filling.
Chocolate Roulade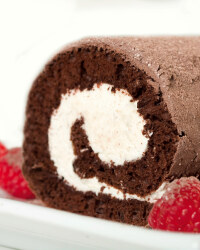 Recipe Information
Ingredients
175g/6oz Plain chocolate, broken into pieces
175g/6oz Caster sugar
6 Eggs, separated
For the filling
300ml/10fl oz Double cream
Punnet of Fresh raspberries (frozen if out of season)
Method
Lightly grease Swiss roll tin and line with non-stick baking parchment, pushing it into the corners.
Pre-heat the oven to 180°C/350°F/Gas Mark 4 Melt the chocolate slowly in a bowl over a pan of hot water.
Allow to cool slightly Separate the eggs, place the sugar and egg yolks in a bowl and whisk with an electric whisk on a high speed, until light and cream.
Add the cooled chocolate and stir until evenly blended.
Whisk the egg whites until stiff but not dry.
Stir a large spoonful of the egg whites into the chocolate mixture, mix gently and then fold in the remaining egg whites Pour into the prepared tin and tap the tin on a work top to level the mixture.
Bake in the pre-heated oven for about 20 minutes until firm to the touch.
Remove the roulade from the oven, leave in the tin and place on a cooling rack.
When cold (it will sink slightly), turn onto a sheet of greaseproof paper.
Turn the tin with the roulade over onto the paper and gently remove the lining paper from the cake, in strips, so as not to break it.
Whip the cream until it just holds its shape.
Spread cream evenly over the cake and sprinkle on the raspberries.
To roll the roulade, lift the long side of the paper and guide the cake to a rolling position, then continue to the end.
Trim off the ends and serve.