This delightful dessert is a delicious adaptation of a classic Easter treat.
Chocolate Orange Hot Cross Bun Pudding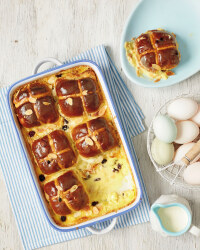 Recipe Information
Ingredients
150ml Whole Milk
150ml Double Cream
Zest of 1 Orange
3 Large Free-Range Egg Yolks
1 Large Free-Range Egg
75g Sugar
1tsp Vanilla Extract
4 Plain Hot Cross Buns
Butter for Spreading
10g Light Brown Sugar
¼ tsp Cinnamon
25g Dark Chocolate, chopped into small chunks
Method
For the crème anglaise, warm the milk, cream, vanilla extract and orange zest in a pan then leave to infuse for an hour
Slice the hot cross buns into 1cm thick slices and spread each with butter
Overlap the slices, butter side up around the edge of a 22cm/9inch diameter flan dish, then sprinkle over some brown sugar, cinnamon and chopped chocolate before repeating in the centre
Whisk the egg and yolks with the sugar in a separate bowl
Reheat the infused milk until it's boiling then slowly pour it over egg mix while whisking constantly
Pour over the crème anglaise over the hot cross buns then leave to stand for at least 30 minutes before baking. Can also be prepared day in advance, covered and stored in the fridge until needed.
Preheat the oven to 180°C
Place the dish into a roasting tray then add enough water to come a third of the way up the side of the dish then place into the oven for about 20-30 minutes or until the custard is just set and the top is browned
Serve with crème fraiche, mascarpone or ice-cream