Chocolate Gingerbread Cake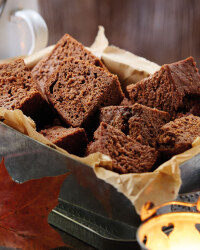 Recipe Information
Ingredients
50g Dark Chocolate
200g Brown Soft Sugar
225g Plain Flour
2 heaped tsp. Baking Powder
75gSalted Butter
200g Low Fat Natural Yogurt
4 Medium Eggs
25g Cocoa Powder
2 heaped tsp. Ground Ginger
1 level tsp. Cinnamon Black Pepper
1 x 20cm square cake tin
Method
Pre-heat the oven to 180°C/350°F/Gas Mark 4. Line the base of the baking tin with some non-stick paper and lightly grease the sides.
Break up the chocolate and cut up the butter. Put in a heatproof bowl and place over a pan of boiling water – make sure the bottom of the bowl doesn't touch the water – until they are both melted.
Add the yogurt to the mixture and allow to cool a little. Put the flour, baking powder, spices and the cocoa powder in a bowl, add a few grindings of black pepper and mix well.
Whisk the eggs with the brown sugar until frothy. Add the eggs and the chocolate mixture to the dry ingredients and fold together.
Pour into the prepared tin and bake for about 45 minutes, until firm to the touch. Allow to cool in the tin for 15 minutes, then turn out onto a wire rack.
Cut into chunks and serve.