A sweet treat with a kick of chilli for extra flavour
Chocolate Chilli Raspberry Muffins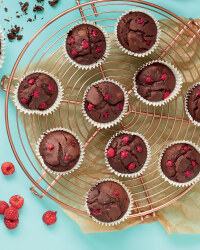 Recipe Information
Ingredients
250g Self Raising Flour
50g Cocoa Powder
1 tsp Baking Powder
150g Caster Sugar
2 Large Eggs
100g Unsalted Butter (Melted)
200ml Milk
100g Dark Chocolate (cut into chunks)
1 tsp Chilli Flakes
75g Fresh Raspberries
Method
Preheat oven to 180°C/ gas mark 4 and line a 12-hole muffin tin with cases.
Mix the flour, cocoa powder and baking powder in a bowl.
Mix the sugar, eggs and milk and add to the flour mixture.
Beat until smooth then stir in the melted butter.
Add the chocolate chunks, raspberries and chilli flakes.
Evenly distribute the cake mix between the 12 cases.
Bake for 20 minutes or until a cocktail stick comes out clean.