Get creative and make some beautiful Chocolate Bark.
Chocolate Bark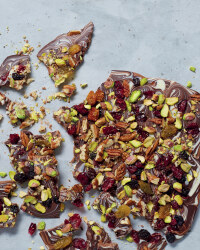 Recipe Information
Ingredients
250g Moser Roth Milk Chocolate
50g Moser Roth White Chocolate
50g Moser Roth Dark Chocolate
100g of mixed dried fruit, nuts (for example dried cranberries/raisins/pistachios/almonds)
Red Food Colouring (optional)
Method
Line a baking tray with greaseproof paper.
Melt the milk chocolate in a microwave for 30 second blasts until smooth and pour onto the greaseproof paper (it doesn't need to fill the tray).
Next melt the dark and white chocolate and then drizzle over the milk chocolate to create swirls (red food colouring can be added to the white chocolate if desired).
Sprinkle the mixture of dried fruits and nuts over and leave to harden in the fridge.
The chocolate bark can be wrapped as a block or broken into chunks and presented in a box or bag as an edible valentines gift.