Chicken Cashew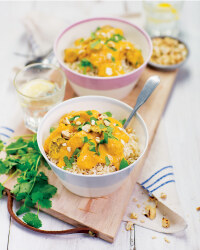 Recipe Information
Ingredients
4 Chicken Breasts, cubed
1kg Brown Rice
2 medium Onions, sliced
2 tbsp Tomato Purée
50g Cashews
1.5 tsp Garam Masala
2 cloves Garlic, crushed
1tsp Chilli Powder
Juice ½ a Lemon
½ tsp Turmeric
1 tsp Salt
1 tbsp Natural Yogurt Fresh Coriander
200g Mushrooms, chopped
300ml water
1 tbsp Rapeseed Oil
Method
Put your rice on to cook, see back of pack.
Put the onions, tomato purée, cashews, garam masala, garlic, chilli, lemon juice, turmeric, salt and yogurt into a food processor and blend.
Add 1 tbsp of rapeseed oil to a pan. Add in the mixture and cook for 2 minutes.
Add in the chicken and cook for about 1 minute, making sure it's all nicely coated.
Add in the mushrooms and water. Bring to simmering point. Cover and cook for 10 minutes.
Add in the fresh coriander and serve.