This hearty chicken pie is great for using any veg up. With a tasty puff pasty crust it's filling and delicious.
Chicken & Mixed Vegetable Pie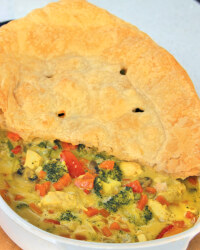 Recipe Information
Ingredients
400g chicken fillets, cubed
1 medium onion, sliced
100g button mushrooms, sliced
200g broccoli, in florets
1 red and 1 green pepper, sliced
2 carrots, diced
300ml warm chicken stock mixed with 300ml warm low fat milk
1 tsp mustard seeds, crushed
1 tsp turmeric
2 bay leaves
50g flour
1 sheet pre-rolled puff pastry
Method
Put a large non-stick pan on the stove and spray with light oil.
Fry chopped onion and mushrooms for a few minutes.
Start adding milk/chicken stock mix to your pot when vegetables start sticking. Add the chicken, the vegetables the herbs and spices and stir.
Cover and simmer for 15 minutes until the vegetables are cooked.
Sieve the flour into the pot and stir to thicken the sauce.
If the sauce is too thick add extra milk.
Remove bay leaves and then pour the filling into a pie dish.
Unroll your pastry sheet and fit it carefully over the pie dish.
Press the pastry around the rim of the dish and make holes in the centre with a knife to allow the steam to escape.
Place in oven at 200°C.
Cook for 15 minutes or until pastry turns golden brown.
Serve.