28 Day Matured Steak marinated with Soy, Cajun Seasoning and a squeeze of lime.
Cajun Rump Steak Skewers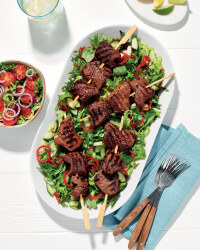 Recipe Information
Ingredients
3 255g 28-Day Matured Rump Steaks
3 tsp Cajun Seasoning
25ml Light Soy Sauce
25ml Olive Oil
Black Pepper
170g Bag Crispy Leaf Salad
3 Spring Onions
½ Cucumber
1 Red Pepper
1 Lime, quartered
4 Wooden or Metal Skewers
Method
Mix the Cajun seasoning, olive oil and soy sauce in a large bowl and season with black pepper. Cut each steak into 4 large chunks, trimming off any fat and marinate in the mixture. Place in the fridge for at least an hour.
To make the salad, thinly slice the spring onions, quarter the cucumber lengthways and slice thinly. Remove the seeds, then cut the red pepper into thin strips.
Put 3 pieces of marinated meat onto each skewer and barbecue or grill for 5-8 minutes, depending on how you like your steak cooked. Serve on top of the salad with lime wedges.