Vegetarian crisp bread trees with tomato, peppers, olives and basil.
Chef's Tip
The tomato and pepper mix can be made a few days ahead and stored in the refrigerator
Bruschetta Christmas Trees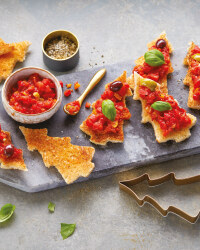 Recipe Information
Ingredients
400g tin Chopped Tomatoes with Herbs, drained
½ jar Antipasti Grilled Peppers, drained and finely chopped
12 Slices White Bread
20ml Olive Oil
6 Green or Black Olives, halved
Fresh Basil Leaves
Black Pepper
1 Christmas Tree Cutter
Shallow Baking Tray
Method
Pre-heat the oven to 180°C/350°F/Gas Mark 4.
Using your cutter, cut a Christmas tree out of each slice of bread.
Put them onto a lightly oiled baking tray and brush with olive oil.
Bake in the oven for approx. 5 minutes until crisp and slightly browned.
Mix the chopped tomatoes and peppers together, then season with some black pepper.
Divide the tomato mixture between the trees and top each tree with half an olive.
Tear some basil leaves and decorate the trees, then serve.