A sweet, light, Middle-Eastern summer dish.
Blackberry and Smoked Salmon Fatoush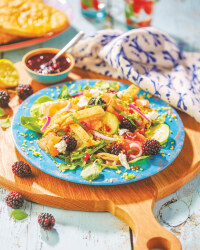 Recipe Information
Ingredients
150g packs Fresh Blackberries
200g pack The Fishmonger Smoked Salmon
120g bag Watercress, Spinach and Rocket Leaves
½ Cucumber
2 x 100g Packs Worldwide Foods Spice Infusion Cous Cous
150g Log Goats Cheese
1 x Red Onion
6g Fresh Mint
2 x White Pitta Bread
120ml Specially Selected Olive Oil
10ml Grandessa Squeezy Honey
1 x Lemon
1 x Teaspoon Stonemills Chilli Powder
Method
Preheat the oven to 200°c/400°f/Gas Mark 6.
Mix 20ml olive oil with the chilli powder.
Brush this over the tops of the pitta bread – bake in the oven for 5 to 6 minutes until crisp - remove from the oven and cut the bread into thin strips.
In a bowl, mash one of the packs of the blackberries with a fork.
Add the rest of the olive oil and the honey.
Juice the lemon and add this to the bowl, season with some salt and black pepper and whisk well.
Make up the couscous as directions on the packs.
Peel, half and thinly slice the red onion.
Thinly slice the cucumber.
Rip the salmon into smaller pieces.
Chop the mint finely.
In a large bowl mix the leaves, cucumber, salmon, couscous, onion and the remaining blackberries – add the strips of pitta bread, crumble over the goats cheese and sprinkle over the mint.
Mix the dressing again and drizzle over the salad and serve.