Black Death Smoothie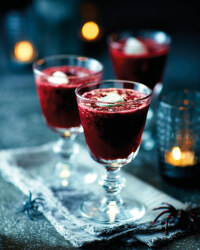 Recipe Information
Ingredients
1 tub Frozen Black Forest Fruits
750ml Cranberry Juice
1 bag Jolly Jungle Sweets - Spiders, Worms and Snakes to garnish
100ml Gin (optional)
Method
1. Place 1 sweet into each section of an ice cube tray.
2. Pour water over and freeze for 2 hours.
3. Blend the frozen fruit and cranberry juice together in a food processor.
4. Add the gin if desired.
5. Pour into a large punch bowl and garnish with the ice cubes.