A sweet, tasty and healthy way to enjoy one of your favourite foods all year round.
Beetroot Base Pizza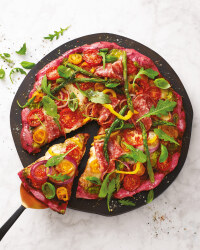 Recipe Information
Ingredients
Base Ingredients:
2 Cooked Beetroot
1 x 7g sachet Dried Yeast
500g Gluten Free Plain Flour
1½ tsp Salt
2 tsp Honey
200ml Lukewarm Water
Toppings:
Mozzarella
Pesto
Chopped tomatoes
Salami
Peppers
Onions
Asparagus
Rocket
Method
Pre-heat the oven to 200°C/400°F/Gas Mark 6.
Put the water into a small bowl and sprinkle over the yeast. Wait until it starts to bubble a little and go cloudy.
Roughly chop the beetroot up and put into a food processor along with the honey, salt and yeasty water, then blitz to a purée.
In a large bowl, whisk the flour with a balloon whisk. Add the beetroot mixture and with your hands mix until the mixture comes together. If it's too dry add a little more water, if too wet add a little more flour.
Turn onto a floured board and knead for 5 minutes.
Put the dough into a lightly greased bowl, cover with cling film and put in a warm place for about 80 mins, until it's doubled in size.
Divide the dough in half, then roll and pull the dough into 30cm circles.
Lightly grease 2 baking sheets. Put the pizza bases on the sheets.
Top with mozzarella, pesto, chopped tomatoes, salami, peppers, onions, Asparagus, Rocket or whatever topping you like.
Bake in oven for 15-20 minutes, until the edges are browned.
Please check all our products on the online guide provided here. Read all labels in case manufacturing processes have changed.