This classic is sure to fill your boots. You really can't beat a fish and chip supper.
Beer Battered Fish & Chips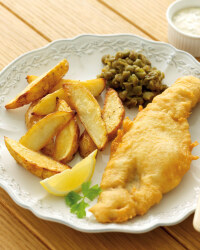 Recipe Information
Ingredients
1 pack of haddock, defrosted and patted dry
2 tins of processed peas
½ onion finely chopped
1 clove of garlic, roughly chopped
3 tbsp of white wine Vinegar
150g self-raising flour
220ml full-bodied lager or ale
1 tsp salt
1 egg
Tartare sauce
Oil for frying
6 rooster potatoes cut into wedges with skin on
Method
Season the potatoes with salt and pepper and toss in sunflower oil.
Place on a baking tray and cook at 220°C for 20 minutes.
Simmer the peas in 1 pint of boiling water for 20 minutes.
While they are cooking, gently fry the onion and garlic until soft, about 6 minutes.
Add the vinegar to the onion/garlic mix and add the peas when ready.
Season with freshly ground black pepper.
Taste and add more salt or vinegar to your liking.
Separate the egg, whisk the egg white until fluffy.
To make the batter, place the flour, salt, egg yolk and beer in a bowl and whisk until smooth.
Fold in the egg white.
Dust the fish with flour and coat in the batter.
Deep fry at 180°C until golden.
Serve with the potato, some mushy peas, tartare sauce and a wedge of lemon.