Ballycastle Brûlée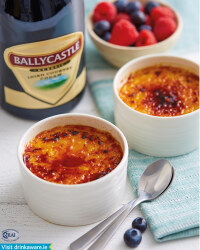 Recipe Information
Ingredients
40ml Ballycastle
3 large Egg Yolks
250ml Double Cream
45g Caster Sugar
Method
Pre-heat the oven to 110°C/225°F/Gas Mark ¼.
Whisk the egg yolks with 30g caster sugar until thick, creamy and pale.
Put the cream and Ballycastle into a small saucepan and gently bring to the boil. Pour the boiling cream over the eggs and whisk well.
Divide the mixture between 2 large ramekin dishes or ovenproof bowls. Put these in a small deep baking tray – pour boiling water into the tray so it comes up to halfway on the sides of the pots.
Bake in the oven for about 40 minutes, until the custards are set, but still wobble when shaken. Take out of the oven and allow to cool in the tin with the water.
When cooled, transfer to the fridge for at least an hour – if covered these will keep in the fridge for 4 days.
When ready to serve, sprinkle the remaining sugar over the custards – either put under a hot grill or use a blow torch to caramelise the sugar.
Serve immediately.