Enjoy this classic Welsh delicacy with a twist.
Bacon Rarebit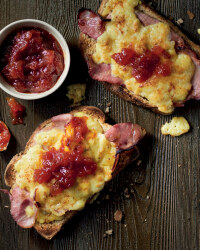 Recipe Information
Ingredients
8 slices Sweetcure Back Bacon
200g West Country Extra Mature Crunchy Cheddar
1 Medium Egg
½ tsp English Mustard
4 slices Traditional Malted Bloomer
Black Pepper
Tomato & Chilli Chutney
Method
Pre-heat the grill
Grate the cheese and mix with the egg, English mustard and some black pepper.
Lightly grill the bacon on both sides.
Toast the bread slices on one side.
Place 2 bacon rashers on each of the untoasted sides of the bread.
Divide the cheese mixture over the top of the bacon.
Grill the bacon and cheese slices until the cheese is melted and browned.
Serve alongside the tomato and chilli chutney.