The classic combination of leek and bacon, with a sweetcorn surprise
Bacon, Leek and Sweetcorn Puff Pie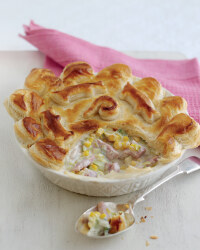 Recipe Information
Ingredients
2 Dry cured smoked bacon rashers cut into cubes (about 200g (7oz) each in weight)
15ml (1tbsp) Oil
2 leeks, washed, halved and sliced
200g (7oz) low fat/light cream cheese
Black pepper – to taste
325g can sweetcorn, drained or if frozen about 260g
500g packet pre-made puff pastry
Milk and egg, whisked, for glaze.
Method
Pre-heat the oven to Gas Mark 6, 200°C, 400°F.
Heat the oil in a large pan. Add the bacon and leeks and cook until the bacon has changed colour and the leeks are beginning to soften.
Add the cream cheese and combine together well.
Heat through and allow to thicken slightly for about 2-3 minutes.
Add the black pepper and sweetcorn and then place in a large 1 litre/2 pint pie dish.
Roll out the pastry to a size that will roughly cover the dish – decorate the edge with a pattern (a good effect is to use the edge of a small round glass) and, if you wish, cut out shapes to decorate the top of the pie.
Brush the pastry with the milk and egg glaze.
Place in the preheated oven for about 25-30 minutes until the pastry is golden brown and well risen.
Serve with a selection of seasonal green vegetables.