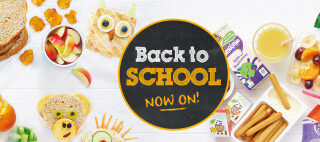 Pack more into your Back to School meals with Aldi
A good start to the school year begins with fresh family meals and healthy snacks everyone can enjoy. Discover all this and more, including our fresh weekly offers on meat, fruit and veg, in your local Aldi.
Lunchtime sorted with 30% extra free
Get 30% extra free from our family lunchtime range of cheese, meats, bread rolls and even water. We have made it even easier to plan tasty, affordable lunchtime feasts for your kids when they return back to school, so you have one less thing to worry about.

Everything you need for going back to school
Keep on the lookout for our amazing back to school Specialbuys from our Amazing School Event. We will have great value stationery, learning guides and journals along with more back to school products in the upcoming months.
Don't miss out!
Amazing Back to School Recipes
We have some amazing recipe ideas that the kids will love.