Chef's Tip
make a double lot of the sauce. Great with pasta and keeps well in the fridge
Aubergine and Pepper Rib Eye Steaks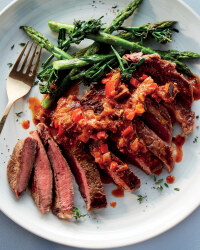 Recipe Information
Ingredients
2 Rib Eye Steaks
½ Aubergine
½ Pointed Red Pepper
1 small Red Onion
40g Specially Selected Rosso Pesto
10g Tomato Puree
150ml Water (or half water and half red wine)
Black Pepper
Method
Peel, halve and chop the red onion finely.
Remove any white pith and seeds from the red pepper and dice.
Chop the aubergine into small pieces.
In a large frying pan, gently saute the red onion, pepper and aubergine in some oil until the vegetables are softened – about 10 minutes.
Add the tomato puree, pesto, water (and wine, if using).
Season with some black pepper and gently cook for a minute or 2.
Grill the steaks to your liking and serve with the aubergine sauce.