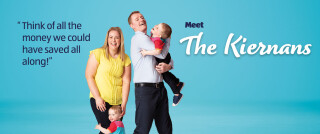 Meet the Kiernans
The Kiernan's tend to have very little time on their hands, especially with their two kids to look after, but they love swimming and travelling to Donegal (where Ashling is from) when they can. They are looking to save for holidays and clothes shopping.
Our Story…
Ashling and Ronan are always in a hurry when shopping, so they were impressed by the fact that everything in store was so efficient. They were wowed by the value and quality of the products available at Aldi. Here's a few of their highlights….
Shopping before switching to Aldi took place between 29/04/19 to 26/05/19 and in Aldi took place between 27/05/19 to 23/06/19.
Meet the other families…
Let us introduce you to our families. Read their stories and hear about all their favourite products, recipes and tasty surprises.
Participants received a gratuity. For shopping dates please click here.