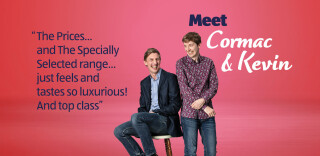 Meet Kevin & Cormac
Kevin & Cormac live together in Dublin and lead extremely busy lives. They enjoy hockey and fitness but are always keen for the odd piece of chocolate. They are looking to save to enjoy some more nights out and to travel some more.
Our story...
Kevin and Cormac were impressed by the range of healthy choices available in store and admitted that they "never shopped like this" after being so impressed by selection and the savings they made. Here's a few of their highlights…
*Shopping before switching to Aldi took place between 28/01/19 to 24/02/19 and in Aldi took place between 25/02/19 to 24/03/19.
Meet the other families…
Let us introduce you to our families. Read their stories and hear about all their favourite products, recipes and tasty surprises. Does saving feel amazing? Let's find out.
Participants received a gratuity. For all shopping dates please click here