Light, nutty and wonderfully sweet shortbread recipe. Perfect for parties.
Almond Shortbread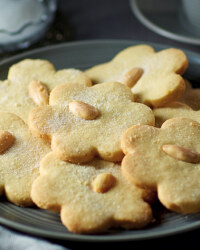 Recipe Information
Ingredients
300g The Pantry Plain Flour
225g Greenvale Unsalted Butter, softened
40g Icing Sugar
50g The Pantry Ground Almonds
1 x Large Egg Yolk
½ tsp Vanilla Essence
24 x The Pantry Whole Almonds
The Pantry Caster Sugar to sprinkle
A little extra Flour
Method
Pre-heat the oven to 190°C/350°F/Gas Mark 5.
Mix the flour, ground almonds and icing sugar together in a large bowl.
Add the egg yolk, vanilla essence and butter and mix well.
Put the mixture into the fridge for about 15 minutes to set.
Sprinkle a little flour on the work surface.
Take the dough mixture out of the fridge and gently roll out to slightly thicker than a one pound coin.
Cut the dough with the cutter, put a whole almond in the centre of each biscuit and push in slightly.
Gather any leftover dough, gently mix together, re-roll and cut as above.
Put the biscuits onto greased baking sheets and cook for about 10-12 minutes – until they are slightly brown at the edges.
Take the biscuits out of the oven and sprinkle with some caster sugar whilst they are still hot, then transfer to a wire rack to cool.