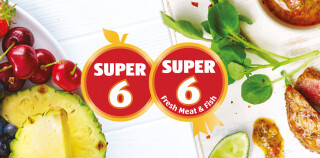 Fresh offers every week
Every week we select some of our best products and offer them at an even more amazing price than usual so our customers get the most out of their weekly shop. Why not see what's on offer in store at the moment?
Super 6 fruit and veg
From the juiciest mangoes to the crispest, sweetest mangetout, our Super 6 fruit and veg offers bring you the best quality and the very best prices.
Super 6 fresh meat & fish
You simply cannot beat the delicious taste of our fresh meat and fish, available at some unbelievably tasty Aldi low prices.
The people behind the produce
Aldi is committed to championing our suppliers. Here are just some of the wonderful companies that work hard to bring us some of the finest food, all year round.