Traditional dessert - suitable for vegans.
Rhubarb and Orange Coconut Crumble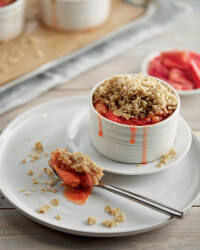 Recipe Information
Ingredients
400g Fresh Rhubarb (trimmed)
1 medium Orange
100g Brown Sugar
60g Solid Coconut Oil
80g Plain Flour
70g Everyday Essentials Oats
1 Baking Dish approx. 22 x 15 x 6cm
Method
Pre-heat the oven to 200ºC/400ºF/Gas Mark 6.
Chop the rhubarb into medium size chunks.
Grate and juice the orange.
In a bowl, mix together the rhubarb with half the sugar and the orange juice and zest. Transfer to the baking dish.
In another bowl, add the flour and the remaining sugar with the oats and mix well. Then, rub the coconut oil into the mix. Sprinkle the oat mix over the top of the rhubarb until it is covered.
Bake in the oven for 25 minutes.