Tender pulled pork with rustic roast potatoes and a tangy apple sauce.
Pulled Pork Sandwich Platter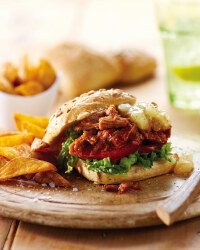 Recipe Information
Ingredients
2 380g packs Pulled Pork with Sweet BBQ Sauce
520g pack Seeded White Dinner Rolls
500g pack Large Vine Tomatoes
1 Romaine Lettuce
270g Jar Bramley Apple Sauce
750g pack Potato Wedges with Garlic and Onion
Method
Pre-heat the oven to 200°C/400°F/Gas Mark 6.
Cook the pulled pork as per instructions on the pack, for 45 minutes.
Meanwhile, slice the tomatoes and shred the lettuce.
Put the potato wedges on a tray and bake for 20 minutes.
Bake the rolls in the oven for 6 minutes.
Put the apple sauce in a bowl.
Serve the pulled pork alongside the split rolls, salad and apple sauce for people to make up into sandwiches, accompanied by the potato wedges.