This glorious recipe is a wonderful way to bring some French decorum to the dinner table.
French Toast with Caramelised Apple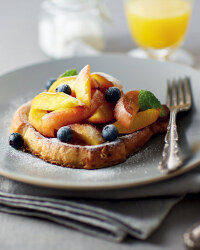 Recipe Information
Ingredients
8 slices Sliced Brioche Loaf
4 Red Eating Apples
125g Blueberries
50g Demerara Sugar
60ml NFC Del Rivo Orange Juice Smooth
3 Large Eggs
100ml Single Cream
80g Butter
Method
Core the apples and cut into thick slices.
Melt 40g butter in a large frying pan – add the apples and cook until golden brown.
Add 25g sugar and the orange juice, cook for 2/3 minutes until the apples are soft.
Beat the eggs with the remaining sugar and cream.
Dip the slices of brioche in the egg mix, fry in the remaining butter until golden on both sides.
Serve topped with the apples and blueberries.