Mornings can be hectic enough in any household. Give your children a hearty start to the day with our kid-friendly breakfast Oats.
Easy Overnight Oats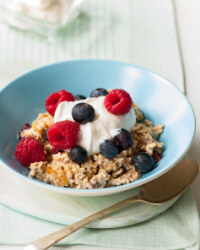 Recipe Information
Ingredients
150g high fibre Porridge Oats
25g dried Cranberries
50g ready-to-eat Apricots, chopped
25g Sultanas
300ml Unsweetened Apple Juice
8 tbsp low-fat, lower Sugar Natural Yoghurt
100g frozen Blueberries, thawed (fresh are also fine)
100g frozen Raspberries, thawed (fresh are also fine)
Method
In a large bowl, mix together the porridge oats, cranberries, apricots and sultanas. Add the apple juice and stir well. Cover and refrigerate overnight.
In the morning, share the soaked mixture between 4 cereal bowls.
Spoon 2 tbsp of low-fat, lower sugar natural yoghurt onto each portion. Share the blueberries and raspberries between the bowls.
Tips:
1. As a change from raspberries and blueberries, top with sliced banana or chopped fresh apple instead.
2. Try using dried cherries instead of cranberries and raisins instead of sultanas.
3. Without the yoghurt, this is a dairy-free recipe. Use a low fat soya-based yoghurt if you prefer.