Cottage Pie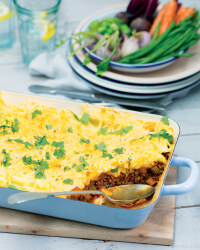 Recipe Information
Ingredients
2 tbsp Olive Oil
150g Onion, finely chopped
800g Minced Beef
1 Egg, beaten
Salt and pepper
3 tbsp Olive Oil for cooking meatballs
For the Tomato Sauce
110g Onion, sliced
1 Garlic Clove, crushed
1 tbsp Olive Oil
150g grated Irish Cheddar
1 tsp Sugar Salt and Pepper
2 x 400g Chunky Chopped Tomatoes with Herbs
Method
Preheat oven to 170°C/ 325°F/Gas Mark 3
Gently re-heat the prepared browned mince with cooked vegetables together.
When they are piping hot, add 1 tablespoon flour, 2 tablespoons gravy granules, 1 tablespoon dried thyme and cook for a further 3 minutes, stirring all the time.
Add in the frozen vegetables and water, stir to mix well.
Pour the mixture into a baking dish and top with a layer of cooked mashed potatoes.
Sprinkle on the grated cheddar cheese.
Bake in a pre-heated oven for 45 minutes.