This delectable desert is a classic with a twist. Creamy chilled rice pudding with a zesty orange compote. Delish.
Chilled Rice Pudding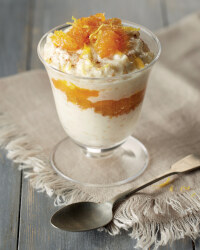 Recipe Information
Ingredients
Fruit Compote
1 Orange
100g The Pantry Dried Apricots
25g Silver Spoon Light Brown Sugar
Zest from 1 Lemon
1 tbsp Napoleon Brandy
Pudding
568ml Cowbelle Whole Milk
100g Pudding Rice
30g The Pantry Granulated Sugar
1 ½ tbsp Bellucci Amaretto Liqueur
200ml Cowbelle Double Cream
Stonemill Ground Cinnamon to serve
Method
Use a sharp knife to segment the orange (removing the pith) and ½ the apricots if large.
Place both in a small saucepan along with the sugar, chopped lemon zest, brandy and enough water to just cover.
Simmer gently for around 15 minutes.
To make the pudding, place the milk, rice and sugar into a saucepan, bring to the boil then simmer for around 30 minutes or until the rice is tender.
Stir in the amaretto and allow to cool.
When the rice is cool, whip the cream and gently fold into the rice.
Divide this mixture between serving bowls or glasses.
Top with a little ground cinnamon and cooled compote.