Deliciously hearty cobbler dish, made with succulent chicken, fresh carrots, turnip and onions.
Chef's Tip
Great served with buttered savoy cabbage.
Chicken Cobbler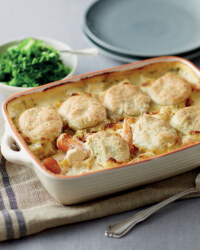 Recipe Information
Ingredients
1 x 375g pack Diced Chicken
2 x Onions
½ Turnip
300g Chantenay Carrots
40g Butter
40g Flour
1 tsp each English Mustard and Dijon Mustard
1 x Chicken Stock Cube
500ml Milk
100ml Double Cream
100ml boiling water
1 tsp Dried Thyme
Salt and Black Pepper
A little Sunflower Oil
For the Scones
60g Butter
200g Flour
140ml Milk
2 tsp Dried Parsley
Method
Pre-heat the oven to 190˚C/375˚F/Gas Mark 5.
Peel and chop the onions.
Sauté the onions and diced chicken in a large frying pan or wok with a little oil until lightly browned, then transfer to a casserole dish.
Trim the carrots, halve if large, and wash. Peel the swede and chop into small chunks. Cook the carrots and swede in some lightly salted boiling water for 5 minutes, drain and add to the chicken.
Melt the butter in a small saucepan, add the flour and cook for a minute.
Add the milk slowly, stirring as you do then bring to the boil.
Crumble the stock cube in the boiling water, mix to dissolve then add this to the white sauce along with the cream, mustards and the dried parsley, season with some black pepper and cook for a further couple of minutes.
Pour the sauce over the chicken and stir through.
To make the Scones
In a large mixing bowl, rub the butter into the flour.
Sprinkle over the parsley then mix in the milk with your fingers.
Divide the mixture into 8 pieces, lightly roll into balls then put on the top of the chicken mix – bake in the oven for 20/25 minutes until the scones are browned.