Vegetarian Burrito filled with wholesome ingredients, topped off with cheese and salsa.
Black Bean Burrito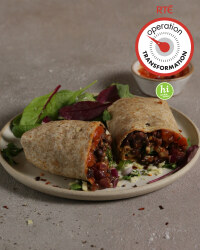 Recipe Information
Ingredients
1 Garlic Clove
½ small Red Onion
20g Baby Spinach Leaves
400g tin Black Beans (240g drained)
1 tbsp Rapeseed Oil (15g)
45g tinned Kidney Beans (drained and rinsed)
150ml Water
¼ tsp dried Chilli Flakes
200g tin Chopped Tomatoes (or ½ regular tin)
2 x wholemeal Wraps
20g Cheddar Cheese
2 x tbsp Salsa (30g)
Salt (optional) and freshly ground Black Pepper
Method
Trim and peel the garlic, then crush with a garlic crusher.
Peel off the skin the red onion and cut into dice. Shred the spinach leaves.
Drain and rinse the black beans in a sieve.
Heat a frying pan over a medium heat and add the rapeseed oil.
Stir in the garlic and add the kidney beans with the black beans and sauté for 1-2 minutes.
Pour in the water and then add chilli flakes, chopped tomatoes and onion. Stir to combine.
Bring to the boil, then season with a little salt (optional) and plenty of freshly ground black pepper.
Reduce the heat to low and simmer for about 5 minutes to reduce, stirring occasionally.
Take a clean frying pan and put back on a medium heat.
Add each wholemeal wrap for 10-15 seconds on each side, using a tongs to turn them over.
Put on a clean chopping board and add the bean mixture.
Grate over the cheese and scatter the spinach on top. Finish with the salsa.
Tuck in the ends and fold into a burrito shape.
Cut the black bean burrito in half and arrange on a plate to serve.