Treat yourself with a classic banana split. Drizzled with sweet butterscotch sauce and a handful of chopped nuts.
Banana Split with Butterscotch Sauce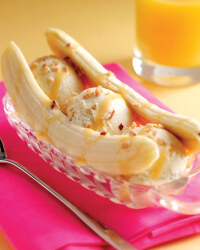 Recipe Information
Ingredients
1 Banana split lengthwise
3 scoops Frosty's Vanilla Ice Cream
25g Caster Sugar
25g Light Brown Soft Sugar
50g Butter
150g Golden Syrup
110ml Single Cream
Handful Chopped Nuts
Method
To make the butterscotch sauce put the butter, sugars and syrup in the saucepan and set over a low heat.
Heat until liquid and gently cook for five minutes, stirring occasionally until solids dissolve.
Remove from heat and slowly add the cream, stirring all the time.
Continue to stir until you have a smooth sauce.
(This will keep for up to two weeks in the fridge). Remember: a little goes a long way and you can reheat as much as you need in a microwave or saucepan.
To make your banana split place three scoops of ice cream in your banana boat and place the halved banana on each side of the boat, top with warm butterscotch sauce.
Sprinkle with chopped nuts, if desired.