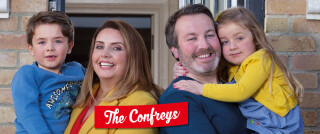 Meet the Confreys
Family of 4 the Confreys. In their free time they love going to Parks and walking their 2 dogs. Dad, Eamonn has a mini gym at home and Mum Liz is a qualified design architect. The money they saved will go towards a short family trip.
Our Swap and Save Story
The Confreys were really surprised and happy at their savings. They enjoyed discovering all of the healthy products on offer at Aldi. Here's a few of their highlights.
Shopping before switching to Aldi took place between 24/09/18 to 21/10/18 and in Aldi took place between 22/10/18 to 18/11/18.
Participants received a gratuity
Meet the other families…
Let us introduce you to our families. Read their stories and hear about all their favourite products, recipes and tasty surprises. Does saving feel amazing? Let's find out.
Participants received a gratuity. See here for shopping dates.