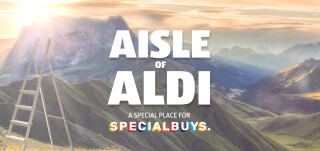 You've arrived!
Welcome to a place like no other. A world of wonder. A destination full of mystery, magic...and unmissable bargains. A place where mums are transformed into master DIY'ers thanks to a cordless drill set. A place where dads discover a love for deep sea diving, because of a discounted wetsuit that happened to catch their eye.
Yes, you may come in for bread, but who knows what amazing possibilities you'll leave with from the famous Aisle of Aldi – a special place for Specialbuys.
Check your list. Pack your bags for life. Keep your arms and legs inside the trolley...
Swap the humdrum of everyday life for Everyday Amazing thanks to the Aisle of Aldi. Whatever you're in to and whatever you're looking for, you're bound to discover something interesting on every trip. Take a look at what you can expect to find when you arrive.
Not ready to leave the Aisle of Aldi?
Keep exploring the wonders via our amazing Aldi app. Everything on the Aisle of Aldi is just a few clicks away at all times, so you can escape on your coffee break or bathroom alone time.