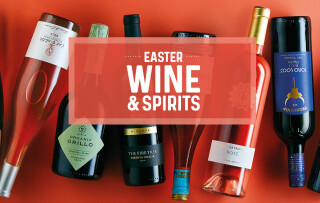 Amazing Easter wine and spirits
Get the drinks in early for your Easter weekend with our great collection of wine, beers and spirits. Our bar is fully stocked with refreshing reds, whites, rosés and fizz, as well as all your favourite spirits. Cheers!
The Easter Wine List
Good Friday, great Saturday, amazing Sunday, followed by Easter Monday. It's not very often we get this sort of weekend together, so it's important to take full advantage. With our special Easter selections of wine, you're sure to do just that. Enjoy every sip, from first to last.
The Exquisite Collection
Our Exquisite Collection allows wine lovers to discover the finest wine from diverse regions around the world. The collection comprises bottles of exceptional quality for every occasion. Look for the blue 'Exquisite Collection' bands across the bottle.
Award-winning spirits and Irish craft ales
Enjoy premium, award-winning spirits this Easter at Aldi. Choose from Irish Whiskies, Premium spirits and Irish craft ales. Plus discover our exciting range of gins, including Boyle's Premium Craft Gin.