For a vegetarian alternative to a roast, try our whole roasted cauliflower, lemon yoghurt and spiced tomato sauce on the BBQ.
Whole Roasted Cauliflower, Lemon Yoghurt and Spiced Tomato Sauce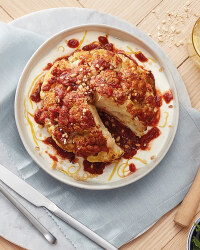 Recipe Information
Ingredients
1 Cauliflower, whole (core cut down)
75g Butter, melted
1 tin Chopped Tomatoes
1tsp Cumin
1tsp Chilli Powder
1tsp Smoked Paprika
½ tsp Ginger Powder
1tps Cayenne Pepper
1 Red Chilli, diced, seeds removed
30g Caster Sugar
4 tbsp Olive Oil
30g Whole Roasted Almonds
100ml Soya Yoghurt (or Coconut)
1 Lemon, juiced and zested
Method
Season your cauliflower generously before placing on the grill, the whole cauliflower florets needs to be side down to begin with.
Baste continuously with butter, turning as needed. You want a nice golden colour on top and for it to be cooked all the way through, including the core.
Add your olive oil to a pan on medium heat and slowly cook off your spices for about 2 minutes before adding in your fresh chilli.
Cook out for a further minute. Add your chopped tomatoes and reduce by half and then season to taste.
Dry roast your almonds in the oven at about 180 degrees for 8 minutes or until golden.
Leave to cool before roughly crushing them. Not too fine, you want it chunky.
Finally for the yoghurt, add the juice and zest from one lemon to your yoghurt and season with salt to taste.
For the last 10 minutes of your cauliflower on the grill, place your tomato sauce on top of the cauliflower head and place a lid on your bbq or a large steel bowl over it to bake the sauce into the cauliflower.
To assemble, place the yoghurt in a pool on the base of the plate first, top with your cauliflower.