Delicious fresh flavours of strawberries and lime, all wrapped up in a classic cheesecake.
Strawberry, Lime & Almond Mascarpone Cheesecake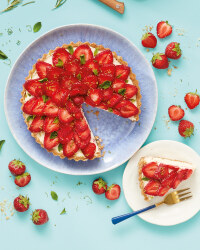 Recipe Information
Ingredients
200g Digestive Biscuits
20g Demerara Sugar
60g Butter, melted
1tsp Almond extract
150ml Double Cream
340g Mascarpone Cheese
50g Caster Sugar
10g Icing Sugar
1tsp Lime Juice
1tsp Vanilla Extract
To decorate:
200g Irish Strawberries, sliced
Zest of 1 Lime
1 stalk of Fresh Mint Leaves
Method
To make the base, blitz the digestive biscuits in a food processor.
Transfer the crumbs to a bowl and stir in the demerara sugar, melted butter, and almond extract.
Press the biscuit mixture into the base and sides of a 25cm loose based tart tin. Refrigerate for 30 minutes.
Whisk together the double cream and icing sugar until smooth peaks form.
In a separate bowl, whisk the mascarpone, caster sugar, lime juice, and vanilla extract until no liquid remains on the surface.
Gently fold the two mixtures together before transferring to the biscuit base.
Top the cheesecake with the sliced strawberries, lime zest, and mint leaves.
Refrigerate for 1 hour before serving.