This delightful French dish is a bona fide classic.
Steak Tartare & Pomme Frites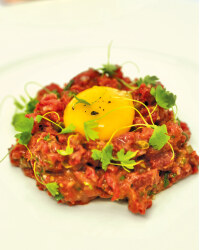 Recipe Information
Ingredients
4 x 200g Fillets of Beef
½ jar of Mayonnaise
15ml Worcestershire Sauce
50g Dijon Mustard
40g Ketchup
Tabasco Sauce to taste
Flat Leaf Parsley, chopped
30g Shallots, peeled and finely diced
30g Capers, finely chopped
30g Pickled Gherkins, finely diced
4 whole Egg yolks
1 bag frozen Skinny Chips/Fries
Method
First make the mayonnaise for the tartare. Mix the mayonnaise with Worcestershire sauce, Dijon mustard and ketchup.
Season with tabasco depending on how hot you like it.
Mince or hand chop the beef finely. Add some of the mayonnaise to your taste along with the gherkins, capers, shallots and parsley again to your taste.
Season with salt and pepper. Put on a plate and top with the egg yolk. Serve with cooked chips.