Mouth-watering mini cheesecakes laced with spiced rum and smothered in caramel studded with pecans.
Spiced Rum and Pecan Cheesecake Bites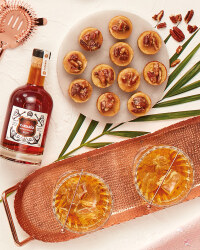 Recipe Information
Ingredients
130g Digestive Biscuits
75g Unsalted Butter
90g Light Brown Sugar
300g Soft Cheese
20ml Old Hopking Spiced Gold Rum
2 x Medium Eggs
For the pecan topping
70g Pecan Nuts
125ml Water
70g Granulated Sugar
30ml Double Cream
20ml Old Hopking Spiced Gold Rum
1 tsp of Vanilla extract
Sunflower Oil, for greasing
1 x 20 hole Mini Muffin Non-stick Baking Tray
Method
Pre-heat the oven to 200°C/Gas Mark 6.
Lightly grease the moulds with some oil.
Crush the biscuits into crumbs.
Melt the butter and mix into the crumbs.
Divide the mixture in the bases of the moulds, pushing down with a teaspoon.
Bake in the oven for 10 minutes – remove and allow to cool.
In a food processor, mix the soft cheese, eggs, rum, and brown sugar together.
Divide this between the moulds. Bake in the oven for 20 minutes until just set.
Allow to cool completely before putting on the topping.
Put the water in a small pan with the granulated sugar.
Slowly bring to the boil to dissolve the sugar, then fast boil for about 15 minutes until the syrup is light brown.
Quickly add the cream, vanilla extract and rum and stir well.
Break up the pecan nuts and add to the caramel sauce.
Divide this over the tops of the mini cheesecakes.
Using a blunt small knife, run the knife around the cheesecakes to loosen.
Gently remove from the tin and serve.