Sausage Mummies with With Sauce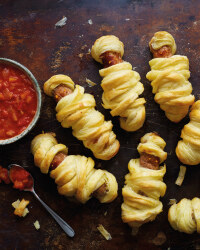 Recipe Information
Ingredients
1 x 454g pack 8 British Cumberland Sausages
1 x 375g pack Greenvale Puff Pastry
1 large mild Onion
150g Butternut Squash flesh – about ½ peeled squash
1 flat tsp Stonemill Paprika
1 flat tsp Stonemill Garlic Granules
1 x 400g tin Sweet Harvest Chopped Tinned Tomatoes with Herbs
1 Vegetable Quixo Stock Cube
20ml The Pantry Lemon Juice
200ml boiling Water
20ml Olive Oil
A little Milk
Method
1. Pre-heat the oven to 200°C/400°F/Gas Mark 6.
2. Peel and halve the onion, then finely chop.
3. Finely chop the butternut squash – keep a few small chopped pieces back to make eyes for the mummies.
4. Sauté the onion in the olive oil in a large saucepan for about 5 minutes on a low light until soft but not browned.
5. Add the butternut squash and the garlic and paprika – mix well with the onions and cook for a further 3 minutes.
6. Add the tinned tomatoes and lemon juice.
7. Dissolve the stock cube in the boiling water and add to the saucepan.
8. Bring to the boil, then cover and simmer for 15 minutes, stirring occasionally.
9. Meanwhile, unroll the pastry and cut into 1½ cm strips.
10. Unlink the sausages.
11. Wrap the pastry around the sausages, leaving a space for the face.
12. Place on a baking sheet. Brush with a little milk and bake for 15/20 minutes until they are lightly golden.
13. Put eyes on their faces using the saved chopped squash.
14. Serve alongside the witches' sauce.