Santa and Spice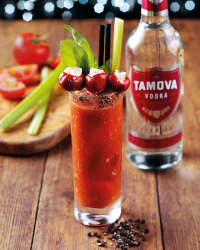 Recipe Information
Ingredients
50ml Vodka
100ml tomato juice
100ml fresh lemon juice
Pinch of cracked black pepper
Pinch of chilli powder
Squeeze fresh lime juice
1 dash horseradish sauce
Decoration / to serve
Add cracked black pepper to the rim of the glass and garnish with a stuffed bell pepper, pickled gherkin, and fresh basil.
Method
Add all ingredients to a mixing jug and stir over ice until cold
Take a tall Collins glass filled with cubed ice and add cracked black pepper to the rim
Pour in the mixed Bloody Mary and garnish
Tasting notes
Bringing together a delicious mixture of savoury ingredients, Bloody Mary is the ideal drink to serve with a Boxing Day brunch. The cocktail works well with a range of garnishes from 'Pigs in Blankets' to mozzarella and Parma ham or mini turkey sliders.