Classic pudding with raspberry sorbet and ice cream encased in meringue on a cake base.
Raspberry Alaska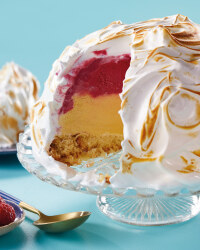 Recipe Information
Ingredients
For the sponge:
75g ground almonds
50g icing sugar
2 egg whites
Pinch of salt
55g caster sugar
For the sorbet and filling:
500g raspberries
200g sugar
270ml water
Juice of 1 lemon
500g vanilla ice cream
For the meringue:
6 egg whites
340g caster sugar
Method
Line a 20cm wide bowl with cling film. Freeze for at least 20 minutes.
Blitz together the raspberries and lemon juice. Strain and discard the seeds.
Combine the 200g sugar and 270ml water in a saucepan. Gently heat until the sugar dissolves.
Increase the temperature and continue to heat until the mixture has reduced by about two thirds (or until a syrup has formed).
Remove the pan from the hob and whisk the syrup into the raspberry puree. Freeze for 4 hours, giving the sorbet a quick stir every 60 minutes.
Transfer the sorbet into the chilled bowl. Top with a thick layer of ice cream before returning the bowl to the freezer.
Make the cake by mixing the ground almonds and icing sugar.
In a separate bowl, beat the egg whites and salt until frothy.
Add the caster sugar a little at a time, continuing to whisk until stiff peaks form.
Fold the egg mixture into the dry ingredients before transferring the batter to a 20cm round cake tin lined with baking paper.
Bake in the oven for 20 minutes at 200C/180C (fan)/gas mark 6.
When the cake is completely cool, remove the bowl from the freezer and place the cake on top of the ice cream layer.
Return the bowl to the freezer whilst you mix the meringue.
Whisk the egg whites until frothy. Add the caster sugar a little at a time whilst the mixer is still running.
Mix for a further 5 minutes, or until the meringue is thick and glossy.
Remove the bowl from the freezer and carefully turn the dessert out onto a plate, discarding the cling film.
Spread a thick layer of meringue over the dessert before crisping the exterior using a culinary blowtorch.
Serve immediately.