Gorgeous puddings filled with chocolate spread and served with shards of hazelnut praline.
Praline Chocolate Pudding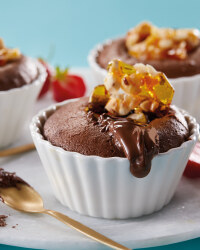 Recipe Information
Ingredients
115g Dark chocolate, finely chopped
115g unsalted butter
115g icing sugar
2 eggs
2 egg yolks
45g plain flour
8tsp Nutoka Hazelnut Chocolate spread
4tsp cocoa powder
For the praline:
50g granulated sugar
15ml water
3tbsp hazelnuts, chopped
Method
Preheat the oven to 220C/200C (fan)/gas mark 7.
Lightly dust four dessert ramekins with the cocoa powder.
Combine the chocolate and butter in a heatproof bowl and microwave is small bursts until fully melted.
Stir in the icing sugar, eggs, egg yolks, and flour.
Transfer two dessertspoons of mixture into each ramekin.
Add two teaspoons of Nutoka spread to the centre of each dish, being careful not to allow the chocolate spread to touch the sides.
Spoon the remaining cake batter over the Nutoka and bake in the oven for 14 minutes.
Whilst the puddings are baking, warm the sugar and water over a medium heat until an amber syrup begins to form.
Remove the pan from the heat and quickly stir in the chopped hazelnuts before pouring the mixture out onto a sheet of greaseproof paper. Allow to cool.
Remove the puddings from the oven and leave to stand for one minute before turning out onto plates.
Snap the praline into shards and use to top the puddings before serving.