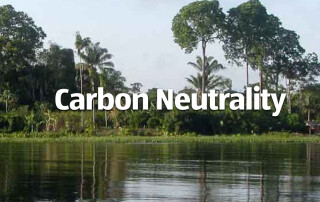 Aldi Ireland and UK have been Carbon Neutral since 1 January 2019
This achievement has been made by continually working to reduce our carbon footprint through buying 100% renewable electricity, using greener refrigerant gases and purchasing carbon offsets for the emissions that we can't reduce completely just yet.
We have selected 4 fantastic carbon offsetting projects to support. All of these projects have a huge social benefit and are independently verified carbon reduction schemes.
Clean Oceans
Over 8 million tonnes of plastic enter the oceans every year! Aldi are working in partnership with Plastic Bank to support the Clean Oceans project, which helps remove plastics from our oceans.
Impoverished people in Haiti, the Philippines and Indonesia collect plastic waste and exchange it at local Plastic Bank sites for money, food, drinking water or children's tuition. The plastic is then recycled to make new products.
How does this project remove carbon from the atmosphere?
• The ocean stores 25% of the CO2 from the atmosphere. The healthier the ocean ecosystem, the more carbon it can store
• A wind farm in the Philippines delivers direct carbon reduction. For every tonne of carbon that is offset by the wind power, credits are provided to local people for every 10kg of plastic waste that they collect.
Did you know… this project supports 14 of the UN's Sustainable Development Goals?
Forest Protection
Aldi are proud to also be championing a Forest Protection project in Brazil, which supports the preservation of 3,000 hectares of rainforest from being deforested to create soy plantations. The project also secures income for the local people "Ribeirinhos" who would have otherwise lost their livelihoods.
This project removes carbon from the atmosphere by preventing the trees in this area of the Amazon from being cut down.
Biomass
We are supporting India to transition from fossil fuels to renewable energy generation by investing in Biomass and Solar Energy projects.
Farmers can collect their waste rice husks and sell them to the local Biomass energy plant as well as selling their rice, increasing their income from harvest.
By supporting this project, we are helping to reduce the amount of greenhouse gases emitted from fossil fuels.
Solar Energy
Renewable sources generate 20% of India's electricity: only 5% of this is from solar power. Aldi are supporting the Solar Energy project, which is helping to increase renewable energy generation.
The Solar Energy project involves 2 solar power plants, producing an average of 95,145 MWh per year. This is equivalent to powering 154 Aldi stores each year.
This scheme also supports community projects such as workshops aimed at educating and empowering women and girls.