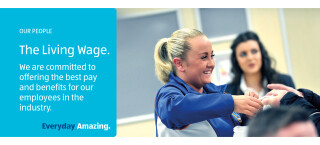 We offer market leading rates of pay
Here's something that's good to know – we are committed to offering the best pay and benefits in the industry.
In 2015, we increased wages for our shop floor staff to above the rate paid by all our supermarket rivals and announced that all employees would meet or exceed the Living Wage in the UK and Ireland in 2016.
That means that since 1 February 2016, all of our Ireland employees have been paid at least €11.50 an hour.
Aldi has a clearly defined career path for store employees and many have progressed from Store Assistant through to Store Manager.