A delicious alternative to mulled wine.
Hot and Spicy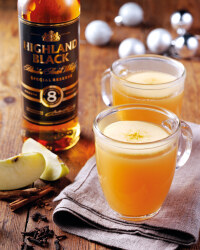 Recipe Information
Ingredients
400ml apple juice
30ml Whisky
8 teaspoons clear set honey
4-8 teaspoons fresh lemon and lime juice
3 cloves
1 inch fresh ginger
2 pinches Ground Cinnamon
Decoration / to serve
Serve in a heat proof mug with a slice of green apple and a sprinkle of Stonemill Ground Cinnamon.
Method
Heat all the ingredients except the whisky over a low heat until all the flavours have infused
Add in the whisky
Tasting notes
This warming mix of apple, honey and cinnamon has the added advantage of being a delicious mocktail by simply omitting the whisky. Great to make in batches ahead of time and heat when needed.