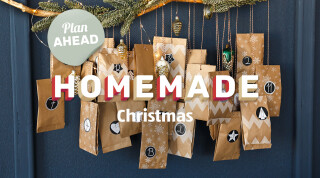 Make it a happy homemade Christmas
The best Christmases are homemade, full of things made straight from the heart, like the perfect Christmas pud, some personal Christmas tree decorations or a little DIY Christmas gifting. We've got plenty of inspiration right here. So, let us help you make this a homemade Christmas you'll never forget.
Get Christmas crafting
All you need is some great ideas, lots of glue and a few handy household items to inject a little personality and design style into your home this Christmas. Use everything from old tins, fabric scraps and cardboard boxes, to pegs, pinecones and candy canes to make amazing holiday decor. Here's a few easy and creative DIY Christmas ideas to try.
A fun and easy idea that will make your gift wrapping extra special! What you need? Plain tags, paint, ribbon, glue and a little foot. Paint and press on to the card, making sure to get a good toe print. Use the paint to add antlers nose and ears.

What a super cute way to hang up your cards. Let the kids get creative with some wooden pegs, paint, pom poms, ribbon and whatever else you have to hand. These will also make really fun place holders.

All you need is a square piece of paper and a crafty mind. Fold the paper in half twice. Cut some straight and/or curvy lines into the edges. Then unfold to reveal your unique snowflake design.

What a fun way to celebrate the season! They're easy to make and decorate and are a wonderful activity for the kids.
Make your own festive wreath
There is nothing more Christmassy than a traditional festive wreath. Why not create your own to welcome people this Christmas and fill your house with festive fragrance and cheer? You can repurpose common household items or rely on your favourite craft supplies.
Collect your materials
You will need a wreath ring or floristry wire, green twine and moss, some hardy, textured foliage, such as ivy, evergreen oak, herbs, pinecones, twigs and rose hips.

Add your moss
Form a base with the moss, moulding onto the ring in one direction. Then cut off some wire, ribbon or string (depending on style) to create a hanging loop and twist until secure.

Add your foliage
Pre-cut your foliage and add one at a time. Finish off by wrapping with festive red ribbon. Fir cones, dried oranges and cinnamon sticks also look great and create a delicious festive aroma.
Dressing the dinner table
All those lovely finishing touches will make all the difference when it comes to creating a warm and festive atmosphere. Think handmade name cards, homemade napkin rings, DIY garlands and centrepieces, real candlelight and lots more jolly decor ideas to make your table merry and bright.
Home Cooking
Keep calm and get your festive meal prep on. Try one (or all) of these amazing Christmas recipes and take the stress out of hosting the family feast.
Host with the most
From recipes, drinks, buffet food and presents. Create the perfect Christmas at home with Aldi.
It's a homemade wrap!
After you've picked the perfect gift, why not try a unique, thrifty and personal way to make their perfect gift extraordinary. All you need are a few household bits and bobs. Warning! Gorgeous gift wrapping ideas coming up….
An oldie but a goodie. A lovely idea for Christmas cards. Your children will have great fun learning how to make cute stamps out of potatoes!

Leftover ribbon and scraps of trim are great for styling your gifts, so don't throw them away! If you don't have enough to wrap around the box, simply layer them on top of each other to add a little extra something to your gift.

Instead of spending money on lots of new wrapping, collect old newspapers, paper bags, and even maps. They make a thrifty and unique way to wrap your gifts.

There's always a much funner way to wrap gift cards. Disguise it in an old mug, add some chocolates and decorate or use an empty jar with some tissue paper and ribbon.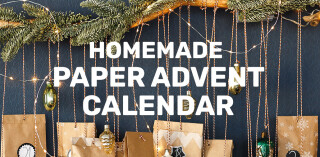 This gorgeous homemade advent calendars is the best! Pick a good branch and upcycle some Christmas wrapping paper into 25 cute little envelopes. Tie with festive ribbon and add a treat (maybe a cheesy Christmas joke too).