A creamy, comforting favourite for evening mealtimes
Fish Pie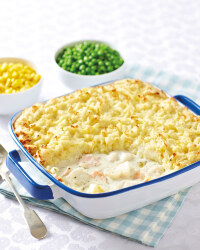 Recipe Information
Ingredients
1 x 250g pack fresh Smoked Haddock
1 x 280g pack fresh salmon fillets
1 x 250g pack fresh cod fillets
3 x teaspoons dried parsley
1 x 440g jar lasagne sauce
100ml Double cream
15ml lemon juice
1 x 650g pack mashed potato
30g Grated cheddar cheese
200g Petit Pois
200g Sweetcorn
Method
Defrost the mashed potatoes and mix well.
Preheat the oven to 200°C/400°F/Gas Mark 6.
Take the skin off the smoked haddock and salmon fillets.
Chop all the fish into medium size chunks. Put them into an ovenproof dish.
Mix the cream, Cucina sauce, lemon juice and parsley together, then pour over the fish and mix well.
Spread the mashed potato over the fish, sprinkle with the grated cheese - bake in the oven for 40mins till golden brown.
Meanwhile - cook the peas and sweetcorn in some salted boiling water - as instructions on the pack - serve these alongside the fish pie.