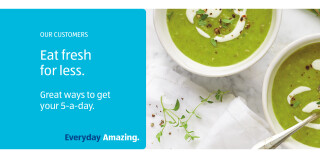 Enjoy fresh, affordable, healthy food every day.
Eat your 5-a-day! It's the best advice your doctor could give you. And we couldn't agree more. Fortunately, with Aldi's amazing Super 6 offers, that's 6 of your 5-a-day sorted. Click here for this week's Super 6 offers.
We also offer an extensive, affordable gluten free range, an expanding Organic range, a broad salad range and we continue to increase the number of nutritious meal ideas on our website. Click here for more information.
Clear nutritional labelling
Clear nutritional labelling information helps our customers to make informed choices about the food they buy. In line with the EU Food Information to Consumers Regulations 1169/2011 (FIR) all relevant products were re-labelled to show the new front of pack traffic lights. This allows customers to clearly see the nutritional content of food and encourage healthy eating choices. RI (Reference Intake) information is coloured red, amber or green depending on if the product is high, medium or low in fat, saturated fat, salt and sugar.